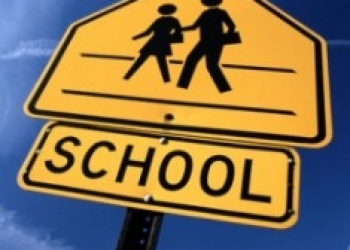 RIDING A BUS TO SCHOOL
For Drivers
Maryland law requires drivers to stop for school buses when the buses engage flashing red lights. Yellow flashing lights indicate that the bus is preparing to load or unload children. Drivers should slow down and prepare to stop.
Red flashing lights and extended stop arms indicate the bus has stopped, and that children are getting on or off. Drivers approaching from either direction must stop until the red lights stop flashing. Drivers may not be able to see everyone who got off of the bus so proceed slowly until you are clear of the bus and pedestrians.
For Students
Getting on the School Bus
• When the bus arrives, stand at least three giant steps (6 feet) away from the curb.
• If you have to cross the street in front of the bus, walk on the sidewalk or along the side of the road until you are five giant steps (10 feet) ahead of the bus. Then you can cross the street.
• Be sure the bus driver can see you and you can see the bus driver.
• Never walk behind the bus.
• If you drop something near the bus, tell the bus driver. Never try to pick it up first because the driver may not be able to see you.